Location
Koelnmesse
50679 Cologne (Germany)
Reliable T&M solutions from the market leader in EMC
With product development always under pressure to deliver quickly, failing EMC compliance test is one of the worst possible disasters for R&D engineers; every day spent on debugging, isolating and correcting the EMI problem increases the time to market
Rohde & Schwarz offers an exceptional range of EMC and field strength test equipment, from standalone instruments to customized turnkey test systems. Our EMC test solutions support all relevant commercial, automotive, military and aerospace standards as well as ETSI and FCC standards for radiated spurious emissions and audio breakthrough measurements.
Curious? Visit us at the EMV in Cologne. We are looking forward to welcoming you at the Rohde & Schwarz booth.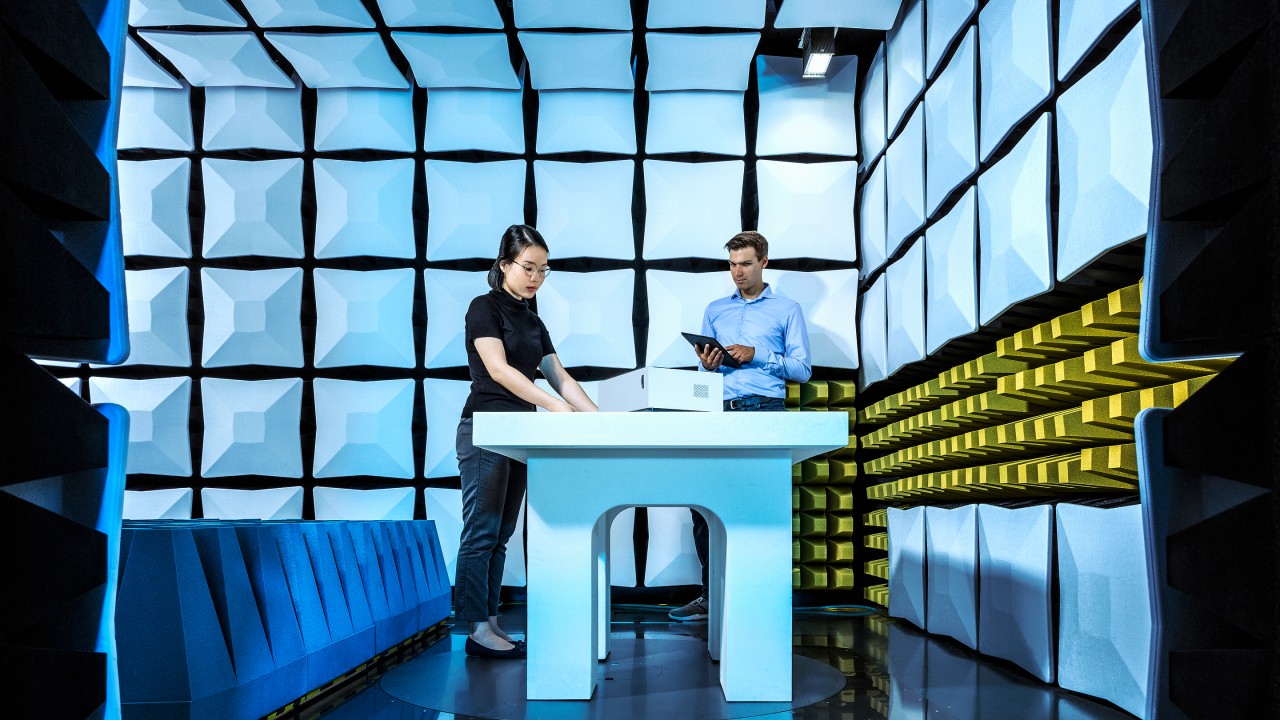 EMC compliance emission testing (EMI) / TEMPEST
Reliable certification measurements in minimum test times
On display:
Efficient EMI diagnostics with full compliant EMI test receiver for commercial, automotive and military applications, including quasi-peak detector, CISPR / RMS average, limit lines and correction factors
Automotive EMI test setup with a dashboard and visual inspection software
Antenna to software EMI compliance test system featuring Fast Time Domain Scan, multi CISPR APD and extended bandwidth with B8E
RSE wireless test system
EMC system control and test automation software
TEMPEST measuring receiver with digital signal evaluation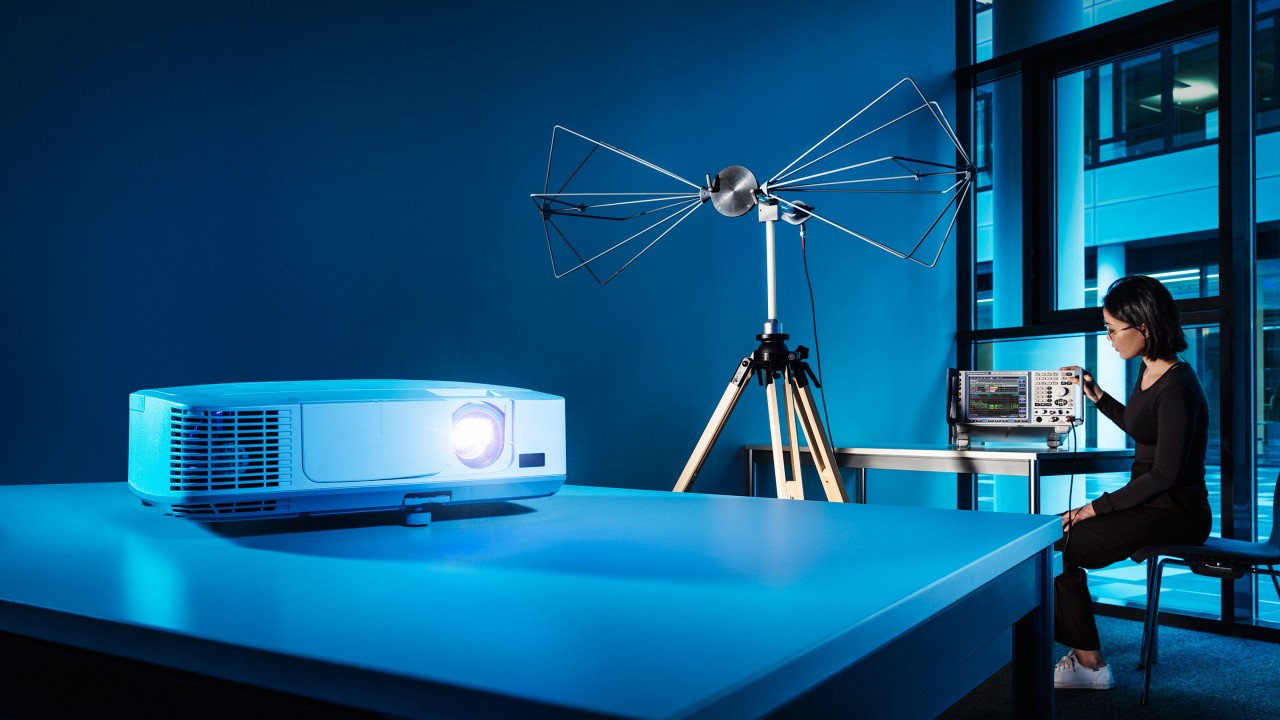 EMI debugging and precompliance testing
Debugging and pre-compliance tests are the prerequisites for first-time pass
On display:
EMI / EMC debugging of intermittent interferers with a state-of-the-art oscilloscope
Pre-compliance test setup with spectrum analyzer using the example of a conducted measurement on a lamp (CISPR 15). The test procedure is controlled via the test automation software R&S ELEKTRA.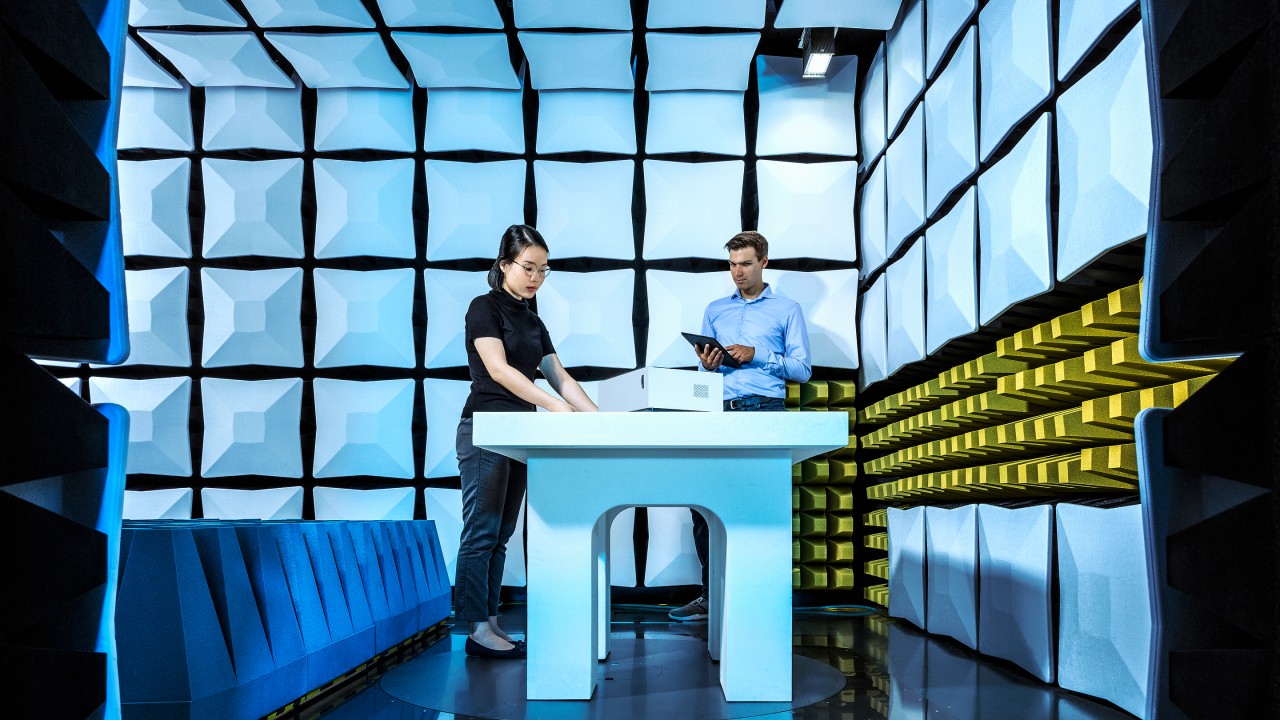 EMC compliance immunity / susceptibility testing (EMS)
Measuring immunity in accordance with standards
On display:
New solid-state broadband amplifier R&S BBA300-CDE with 300 W output power and frequency range up to 6 GHz
Ultra-broadband, low-noise amlifier from 2 GHz to 20 GHz, 20 W output power
Compact test system for commercial or automotive BCI applications
EMC system control and test automation software
System Components for EMC test and automation
Visual inspection software for automation of EMC tests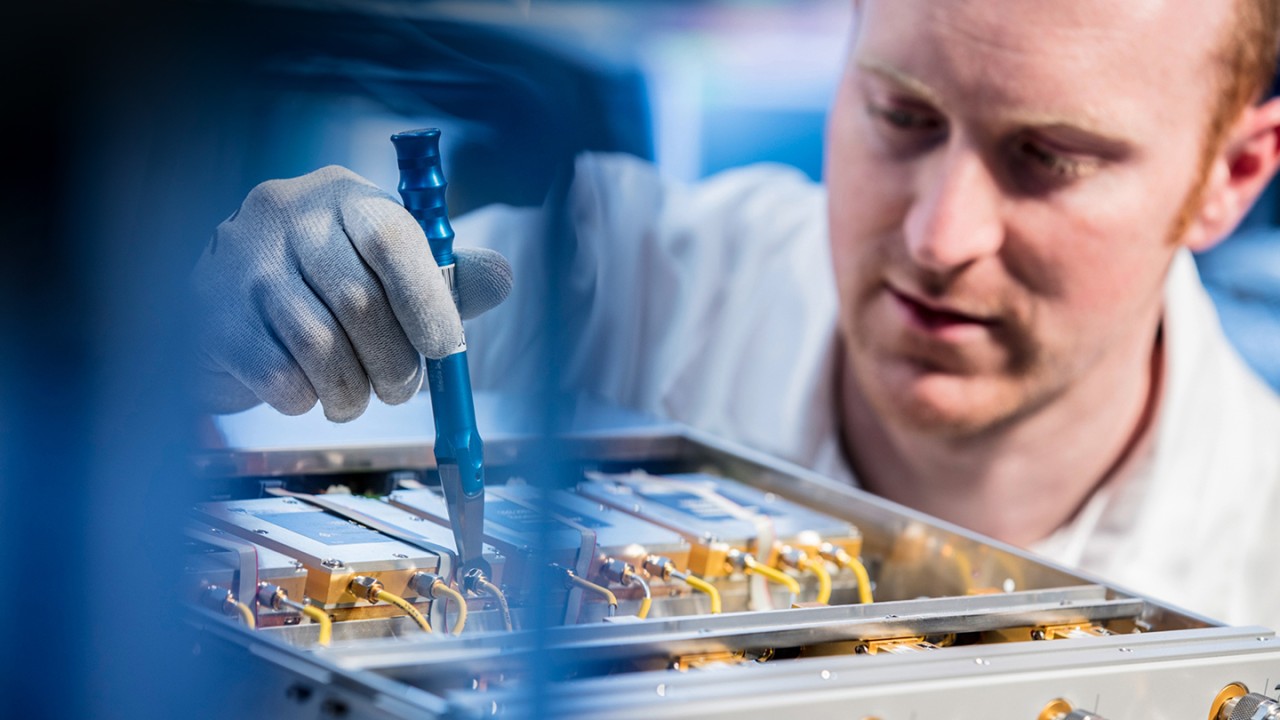 Maintenance and services
Rohde & Schwarz is always close to you with over 70 sales and service locations worldwide
EMC test systems require qualified maintenance and calibration services. Technical experts at the EMV2022 will answer your questions around service, calibration and maintenance.
On display:
Manufacturer-independent calibration
Accredited on-site calibration of test equipment, incl. burst, surge and power fail
Maintenance of chambers as well as mechanical and pneumatic components
Rohde & Schwarz presentations and workshops at EMV2022
Messunsicherheit und Konformitätsunsicherheit bei EMV-Prüfungen mit Schwerpunkt Störaussendungen
Workshop 8
Tuesday, July 12, 13:45 - 17:00
Dipl.-Ing. Jens Medler, Rohde & Schwarz GmbH & Co. KG
Prof. Dr.-Ing. Matthias Wuschek, Technische Hochschule Deggendorf
Meeting radio regulatory requirements on vehicle level
Workshop 11
Wednesday, July 13, 08:45 - 12:00
Dr. Benoit Derat, Rohde & Schwarz GmbH & Co. KG
Dr. Daniel Feyerlein, Frankonia EMC Solutions GmbH
Dr. Johann Heyen et.al., Volkswagen AG
Luca Maria Tancioni, MVG Germany GmbH
Theorie und Praxis zu EMV-Messtechnik und Messverfahren: FFT-basierte Messempfänger
Workshop 13
Wednesday, July 13, 13:45 - 17:00
Tobias Groß, Rohde & Schwarz GmbH & Co. KG
Matthias Keller, Rohde & Schwarz GmbH & Co. KG
Reduce EMI testing time with an R&S®ESW EMI receiver and EMC test automation with R&S ELEKTRA
EMV Forum & product presentations
Tuesday, July 12, 15:40 -16:00
Tobias Groß, Rohde & Schwarz GmbH & Co. KG
Reiner Goetz, Rohde & Schwarz GmbH & Co. KG
Compact and portable ultrabroadband amplifier setups for EMS applications up to 18 GHz
EMV Forum & product presentations
Wednesday, July 13, 11:20 - 11:40
Harald Specker, Rohde & Schwarz GmbH & Co. KG